Manual Sink Faucets
Timeless, Elegant Design
For over 120 years, Chicago Faucets has been designing and building the finest commercial faucets and fittings you can buy. Our manual faucets are the gold standard among plumbing professionals, widely regarded for their outstanding durability and reliability. Interchangeable, replaceable parts – including spouts, outlets, handles, and cartridges – allow you to keep things running smoothly instead of wasting time with costly changeouts. Isn't it time you upgraded your facility with Chicago Faucets?
The widest range of commercial faucets and fittings available
Most of our products are manufactured and assembled in the USA
Interchangeable parts allow you to adapt an existing fitting to new requirements
Legendary quality backed by industry-leading warranties
No more costly replacements: all Chicago Faucets are fully serviceable!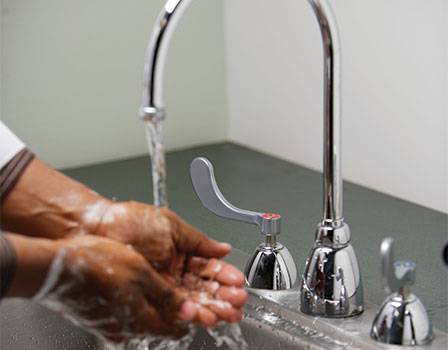 Chicago Faucets feature timeless design and unmatched reliability.