HyTronic® for patient care applications – a proven solution. HyTronic touch-free faucets for Patient Care Applications deliver a responsive, touch-free handwashing experience. An internal waterway is designed and constructed to limit the tested microbial contamination to a level statistically similar to standards set by a conventional manual faucet. Options include a thermostatic mixing valve that provides point-of-use scald protection and tools that support plumbing system remediation protocols.
How can a faucet help limit the spread of bacteria? Check out this video to learn more:
We've designed a complete package specifically for patient care areas that helps reduce the spread of infection, provides protection against scalding, and prevents the cross-flow of dangerous bacteria from the hot supply into the cold supply and back into the plumbing system.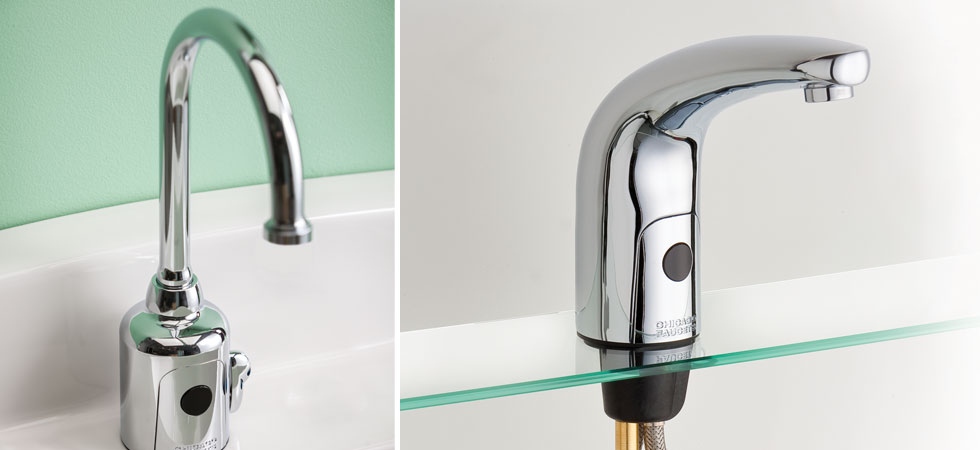 A complete system for high-risk patient care areas:
Patient care-specific operating modes: Scrub, metering, and cleaning modes
Remote control technology: Set, program, maintain, and monitor your faucets with the Commander Handheld Programming Unit
Low volume solenoid valve: Minimizes the amount of stagnant water
Thermostatic Mixing Valve: Point-of-use scald prevention
Angle Stops with Integral Checks: Prevent potentially dangerous cross-flow
Learn more
Use the link below to download a free brochure with full details on our HyTronic Faucets for Patient Care Applications.