HyTronic® Faucets for Patient Care
Meet Spec. Exceed Expectations.
Healthcare professionals like you rely on Chicago Faucets. That's because we make plumbing fittings specially engineered to reduce the risk from waterborne pathogens. Chicago Faucets also help you easily meet Centers for Disease Control (CDC) handwashing guidelines.
HyTronic Patient Care faucets were designed to reduce common risks in healthcare environments and exceed your expectations for patient safety and water management. For over 100 years, healthcare plumbing engineers have been specifying Chicago Faucets, the proven performer for medical facilities.
New for 2023, HyTronic faucets for Patient Care now feature built-in Bluetooth® Low Energy (BLE) technology and the CF Connect app to easily adjust faucets settings via smartphone or tablet.
Tested and validated by a nationally recognized laboratory, HyTronic® electronic faucets for Patient Care are installed in hundreds of healthcare environments and have proven themselves over and over in the fight against healthcare-acquired infections. Keep hospital staff and patients safe and save on maintenance and downtime when you specify American-made Chicago Faucets.
Engineered for Patient Safety
HyTronic® for Patient Care offers:
Hygiene Flush mode, provides automatic conditions-based flushing to reduce stagnation and ensure complete distribution of chemical treatment.
Antimicrobial silver ion laminar flow outlet limits bacterial growth.
Copper tube inlets reduce the opportunity for waterway bacterial growth.
Infrared sensor with dual beam detection is designed to overcome environmental obstacles for a superior user experience. 
Advanced touchless faucet that meets accessibility and ADA requirements.
 Easy to adjust and monitor with our new CF Connect app:
Facility Managers can monitor faucet usage and flush the system using advanced customizable hygiene flush, control multiple faucets in multiple locations and simplify data capture. 
Automated Hygiene Flush mode reduces stagnant water. Select from use-based, interval-based, and volume-based flushing. 
Easily set Pipe Flush mode for longer system purges and remediation efforts.
Manage Operations and Maintenance:
Group and manage multiple faucets by room, set group parameters, record use data, and activate cleaning or flushing mode in a secure format that streamlines maintenance and documentation.
Simplify maintenance by naming faucets with location and group names.

Name each faucet to easily locate them in the future.
Add a group name for multiple faucets in a specific area.
Search for faucets in range or select previously paired faucets

Control water run time by selecting from one of these pre-programmed modes:

Normal
Scrub
Metering
Water Saver
Handwash
Volume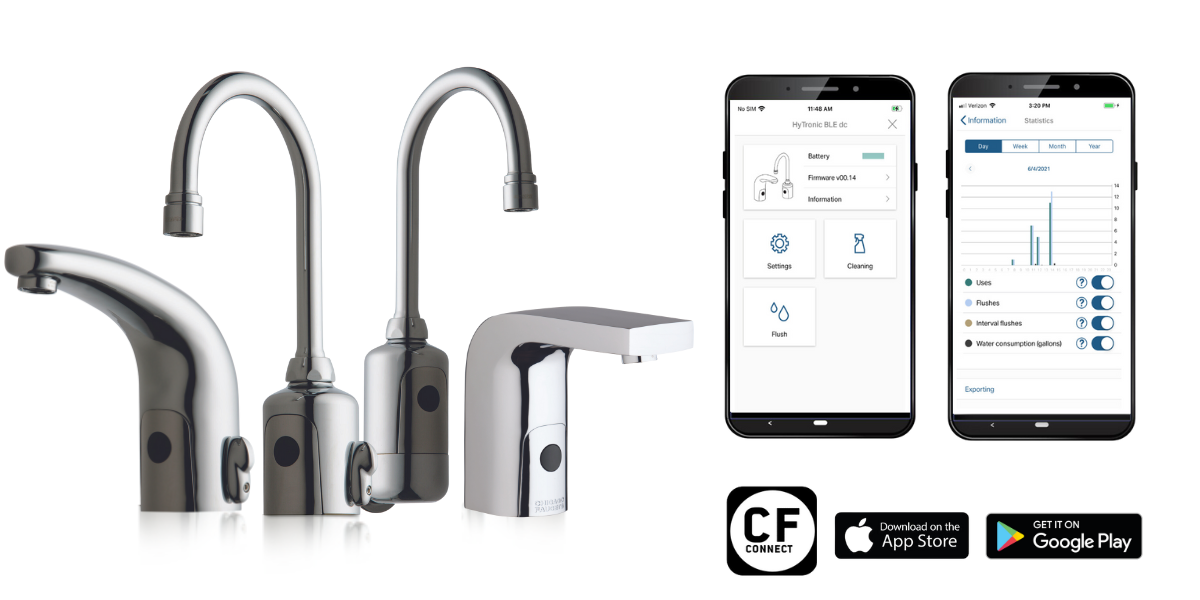 Exceed Owner's Expectations
Engineered to maximize safety with options available.

Thermostatic mixing valve for ASSE 1070 certified scald protection.
Choice of AC, DC, Long-Term Power System (LTPS) and Emergency Backup Power System (EBPS).

Save time, lower costs, and increase water efficiency.

Monitoring and automated flushing saves time and maintenance expenses because monitored water usage provides insights for facilities on where and how they can save on water costs, while also meeting sustainability goals.
Dual-supply models feature user temperature control.
Above-deck electronics offer easy installation and are easier to maintain. 

Made to last with quality, durable construction.

Superior sensor designed to overcome obstacles and prevent ghosting. 
Proven solenoid technology tested to one million cycles.
Constructed of heavy duty cast brass with a polished chrome finish.
Manufactured in Chicago Faucets' Milwaukee, Wisconsin USA foundry.
Meets Codes and Standards
Compliance with the following standards:

ASME A112.18.1/CSA B125.1
ICC A117.1 Accessibility
NSF/ANSI/CAN 372 Low Lead Content
NSF/ANSI/CAN 61: Q ≤ 1

Complies with ADA requirements per the American with Disabilities Act (ADA).
Contains Prop 65 Warning label on the carton.
Compliance with the following codes:

2021,2018,2015,2012, and 2009 International Plumbing Code (IPC) 
2021,2018,2015,2012, and 2009 International Residential Code (IRC) 
2021,2018,2015,2012, and 2009 Uniform Plumbing Code (UPC) 
2017 Uniform Illustrated Plumbing Code - India (UIPC-I)
2020,2015,2010, and 2005 National Plumbing Code of Canada
FAQs
Question:
Will my current HyTronic faucet work with CF Connect?
Answer:
No. In order to use the CF Connect app, the HyTronic would need the Bluetooth sensor, which is now being installed in all HyTronic faucets moving forward.
---
Question:
Will I need to upgrade my HyTronic to use the CF Connect app? 
Answer:
Yes. We sell the Bluetooth sensor that can easily be installed and replace the old sensor. 
---
Question:
Can I still use a Commander™ Handheld Programming Unit with the HyTronic with Bluetooth sensor? 
Answer:
Yes. The HyTronic with BLE can also be used with the Commander as well as with the CF Connect app.
---
Question:
Do all new HyTronic faucet models work with the CF Connect app? 
Answer:
Yes! All HyTronic models that have the new Bluetooth sensor work with the CF Connect app. Stay tuned, we will be introducing more faucet series that will work with the CF Connect app in the near future. 
---