Beautifully Tough
Touchless Faucet
EQ® Hands-free Faucet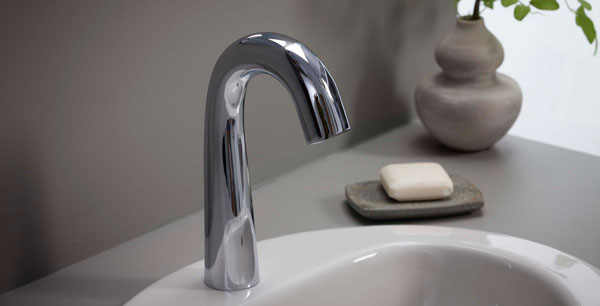 EQ®, an easy-to-install, touchless faucet with beautiful finishes, makes for a great option when you're looking for a quick and stylish switch from manual to touchless. EQ® is the next generation of touchless faucets.
Now is the perfect time to switch from manual faucets to touchless in your restrooms, and EQ® makes it easy and affordable. Want to know more? Read our white paper on the importance of handwashing.
Beautifully Tough
Comes in two finish options – chrome and brushed nickel 

Heavy-duty, one-piece, solid brass spout 
Simple, Discreet, Compact Control Box 
Optional ASSE 1070 compliant integrated thermostatic protection eliminates the need for a separate valve 

Multiple power options: A/C, Battery, Long Term Battery, and Self-Sustaining Power Supplies 
Easy Installation
Designed for simple plug-and-play installation 

Single-hole mounting with 4" and 8" cover plates where needed

---

 
Introducing EQ® Connect!
Now it's easier than ever to program and maintain your EQ® touchless faucets.
EQ® faucets with built-in Bluetooth® technology can now be monitored and controlled easily with a smartphone or tablet. The EQ® Connect App, available from the app store, provides diagnostics and allows you to make adjustments to the faucet's settings with the touch of a finger.