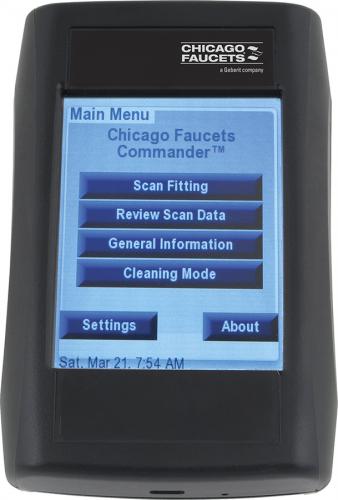 The Commander™ Handheld Programming Unit lets you program, maintain, and monitor our electronic faucets from the palm of your hand. Compatible with HyTronic™ and E-Tronic™ faucets from Chicago Faucets, Commander features a ruggedized housing, infrared communications, and touch-screen technology.
Please bookmark this page and return periodically for firmware updates and other resources to help you get the most out of your Commander.
Commander Registration
Please register your device to access the latest software, firmware, or hardware updates. Registering will also enable us to notify you of future updates.
Register Your Commander Handheld Programming Unit
Commander Documentation
The documents listed below will help you get up and running with your Commander unit. All documents are in PDF format.
Commander Quick Start Guide
Comprehensive Commander User Guide
PALM User Transition Guide*
*Note: The PALM Users Transition Guide is for those who are currently using a PALM device and Commander software. This guide explains everything you need to now to transition to a Commander Handheld Programming Unit, including interface differences and how to transfer files from your old PALM device. If you intend to continue using your PALM device, please click here to access PALM software and support.
Commander Device Update
To make sure your Commander Handheld Programming Unit is up-to-date, please follow the steps below:
Click the link below to download the
Commander Desktop application for Windows.